Message from the President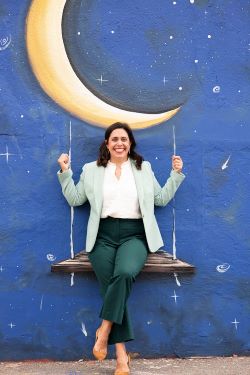 I am honored to join the incredible ranks of Past Presidents and serve as the President of the Central New York Women's Bar Association for the 2023-2024 term. I have been a proud and active member of CNYWBA for years. It is an organization that is devoted to its members and stays true to its mission;
To promote justice for all, regardless of sex, in all phases of the study, practice, and application of the law, to ascertain and advance the social, economic, and legal status of women through law, to expand opportunities for women for advancement in the field of law, and to raise the level of competence and integrity in the legal profession.
This year, our theme, "Dimensions of Wellness," will provide members with an opportunity to explore and engage in wellness practices and offerings in and around the City of Syracuse while highlighting and supporting local MWBE's. So many of us are juggling demanding jobs, professional and community commitments as well as friends and families that it is essential to step back and ensure we are taking time and equipping ourselves with the tools to manage it all. An Introduction to Wellness Basics is what we plan to strive for this term - giving members a taste of what is available in our community. So far we have enjoyed making desktop zen gardens at our Installation with Right Mind Syracuse, explored the power of affirmations through stickers curated by local craft vendors and are planning a book club with Parthenon Books.
As legal professionals, occupational wellness is of the outmost importance. We will continue to provide robust and applicable learning and training opportunities to our members. Vera House and the Volunteer Lawyer Project of CNY, Inc. provided a Domestic Violence CLE for members interested in volunteering at the Vera House - Monday Night Legal Clinic. We have our Women in Medicine Law Dinner with SUNY Upstate Women in Medicine event next month. We are also planning events around book banning and abortion laws. We welcome members to reach out to us with other ideas and look forward to an exciting term.
With great enthusiasm and determination,
Leah A. Witmer, Esq. & ALJ, President, CNYWBA