Message from the President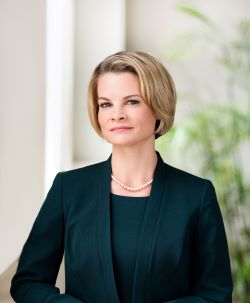 I am honored to serve as the President of the Central New York Women's Bar Association for the 2022-2023 membership year.I have been a proud and active member of CNYWBA for several years. It is an organization that is devoted to its members and stays true to its mission:
To promote justice for all, regardless of sex, in all phases of the study, practice, and application of the law, to ascertain and advance the social, economic, and legal status of women through law, to expand opportunities for women for advancement in the field of law, and to raise the level of competence and integrity in the legal profession.
Fulfilling CNYWBA's mission during a pandemic has proven to be a challenge. Our organization owes a great debt to Immediate Past President Jillian McGuire, who reengaged members and found creative ways for us to connect and contribute during times of isolation. This year, I hope to continue Jillian's efforts.
Now that CNYWBA has returned to programming, my aim for this year is to increase our membership so that our legal community and community at large can experience and benefit from all that we have to offer.
If the circumstances of the last two years have caused you to take a step back, I encourage you to reengage with our organization. If you are supportive of our mission, but have not yet gotten involved, there is no time like the present. There is much to look forward to with enthusiasm.
This year, we will continue our monthly Breakfast at the Bar meetups, offered as part of our parentship with Onondaga County Bar Association's Women in the Courts Workgroup.
During the summer months, we aim to offer a Continuing Legal Education opportunity, with a topic related to LGBTQ+ awareness, and renew our Dinner with the Judge series.
In August, we will honor our judiciary and announce the results of our judicial screening process at our annual Judicial Reception.
In the fall, we will celebrate our history with a fortieth anniversary party at the Everson Museum of Art. Also scheduled is our annual Law and Medicine Dinner, that will include a panel discussion on advocacy for the elderly.
Beyond events to attend, CNYWBA offers opportunities. CNYWBA's Judicial Screening Committee, which is currently assembling, offers an invaluable service to those in the Fifth Judicial District. CNYWBA has a voice on the Fifth Judicial District's Access to Justice Committee. Joint efforts with the Onondaga County Bar Association have created a number of ways to engage with and contribute to the Women in the Court's Workgroup. Opportunities provided by the Women's Bar Association of the State of New York, such as participation on the Legislative Committee, allow our members to be impactful beyond our geographical region.
As part of member reengagement, a focus of this membership year will be mentorship. Over the last two years, we have all realized that many meetings could have been emails. While the ability to connect virtually can be a blessing, it too creates barriers for students and young professionals who find themselves without the opportunity to partake in face-to-face networking or take on in-office internships. With the help of our members, I hope that CNYWBA's yearly programming will serve to expand opportunities for women to advance in the field of law.
Annaleigh Porter
President, CNYWBA