Women in Law Summit and Reception Honoring Chief Judge Janet DiFiore
Register for the Summit By Mail or Online
RSVP for the Reception to cnywba@gmail.com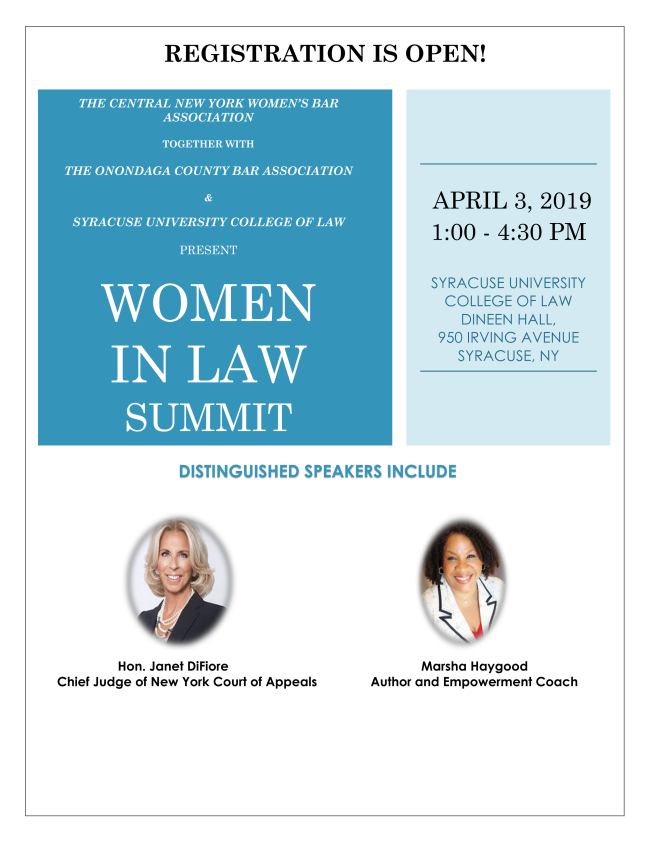 ABOUT THE WOMEN IN LAW SUMMIT
Women have comprised nearly half of all law students and incoming associates at law firms for many years, yet they remain outnumbered by men in the senior ranks of law firms, corporate law departments and other practice settings. We can work towards achieving more gender equality in the profession by learning from one another and supporting each other in our careers.
Through a combination of inspiring keynotes, a panel discussion by accomplished women in the legal profession and a break out session, the Women in Law Summit seeks to promote diversity and inclusion in the legal profession and equip attendees with the skills needed to succeed.
Following the Summit, the CNYWBA is hosting a Reception at the Century Club of Syracuse to Honor Chief Judge Janet DiFiore. Thanks to the generosity of our sponsors and our Reception Platinum Sponsor, Cherundolo Law Firm, PLLC, the reception is complimentary, and your RSVP is required. To register for the Summit and to attend the reception, please use the links at the top of this announcement.
WE GRATEFULLY ACKNOWLEDGE OUR GENEROUS SPONSORS,
PLATINUM SPONSOR OF THE SUMMIT
Syracuse University College of Law
PLATINUM SPONSOR OF THE RECEPTION
Cherundolo Law Firm, PLLC
GOLD SPONSORS
Adirondack Bank
Barclay Damon, LLP
Bond, Schoeneck & King, PLLC
Bottar Law, PLLC
Bousquet Holstein PLLC
Chase Group - Ringler Associates. Syracuse
Costello, Cooney and Fearon, PLLC
DeFrancisco & Falgiatano, LLP
Green & Brenneck
Hancock Estabrook, LLP
Lynn Law Firm
Oneida County Bar Association
Onondaga County Bar Association
Onondaga County Bar Foundation
Robert F. Julian Law Offices
Williams & Rudderow, PLLC
SILVER SPONSORS
Izzo Law Office
Mackenzie Hughes, LLP
Ram-Tech Engineers, PC
Robert E. Lahm, PLLC
Smith Sovik Kendrick & Sugnet, P.C.
Sugarman Law Firm, LLP
BRONZE SPONSORS
Amdursky Pelky Fennell & Wallen PC
Buske Law Office
Gale, Gale & Hunt
Goldberg Segalla
Greene & Reid, PLLC
Michaels & Smolak, P.C.
NYSBA- Torts, Insurance and Compensation Law Section
Oswego County Bar Association